Puerto Rico Mission Trip
June 1-7, 2019
Click the logo to your right for the Praying Pelican Mission Team Updates (Updated by Praying Pelican staff). Mission updates from Union team members are below.
Please pray that God would bless the seeds planted in all hearts during this trip.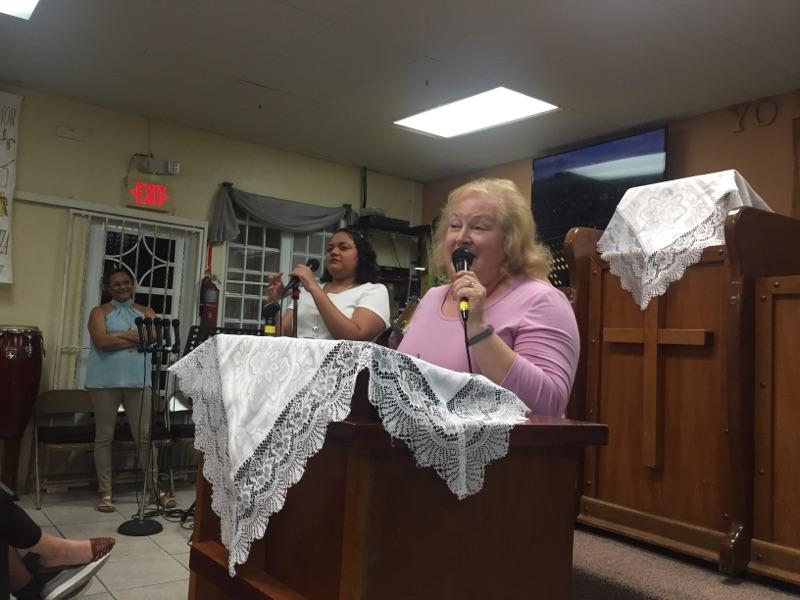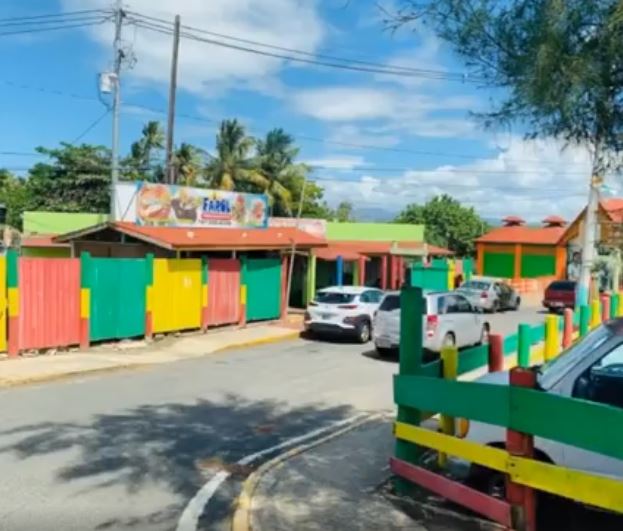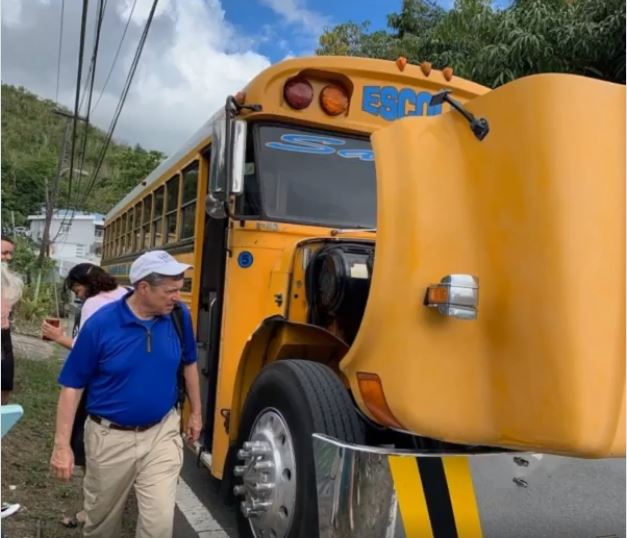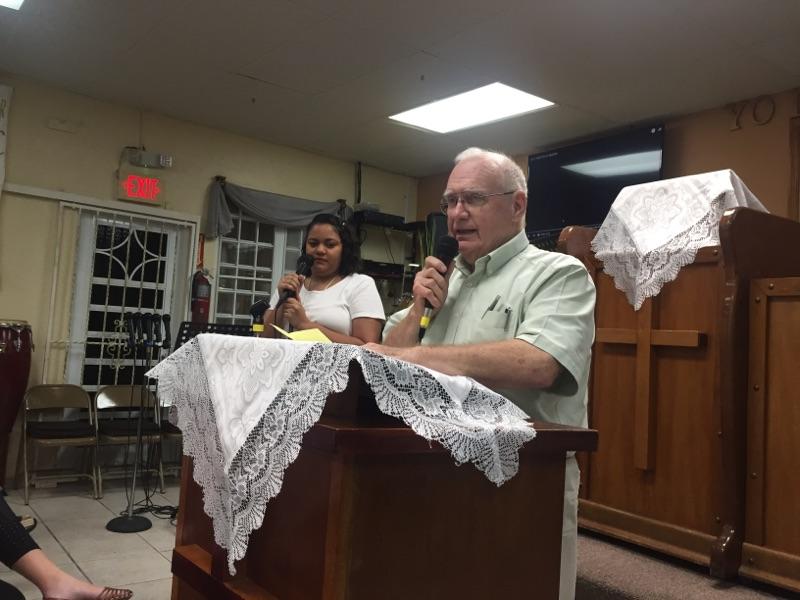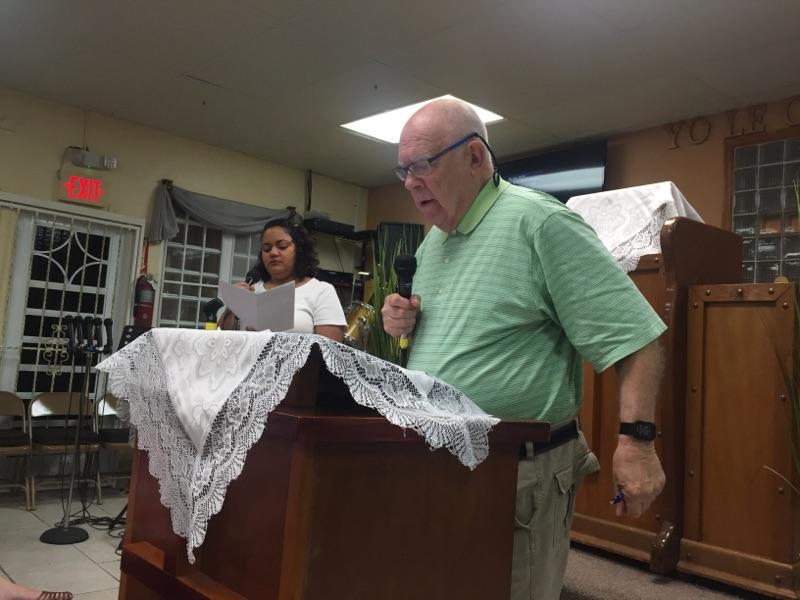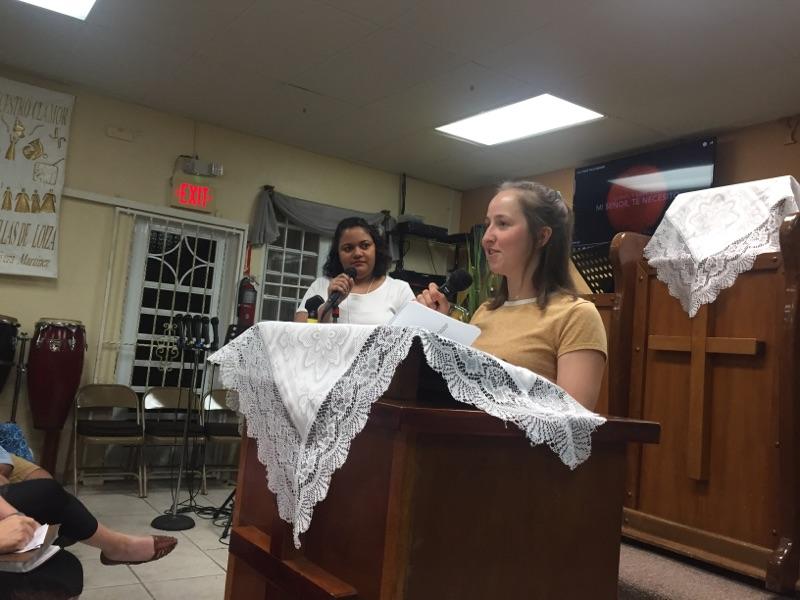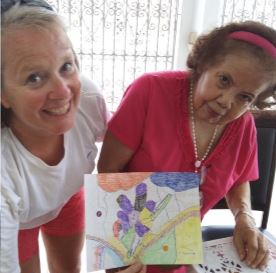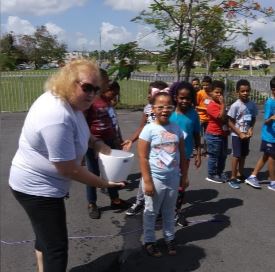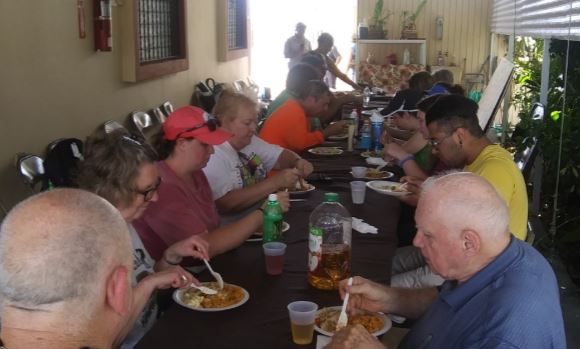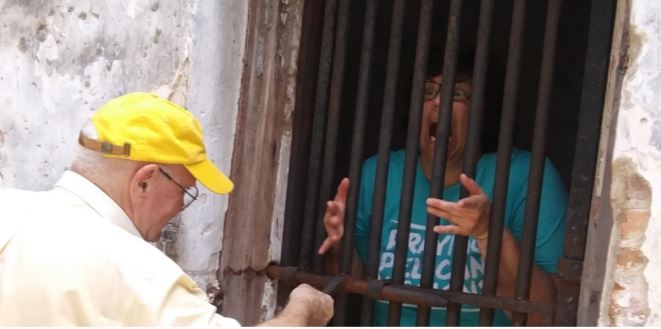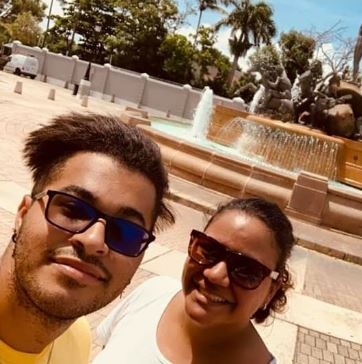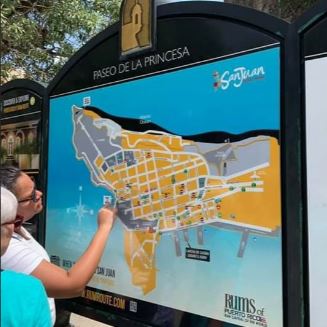 Mission Team Report
Union had a wonderful service on Sunday, June 9, as we celebrated Pentecost and the return of our Mission Team. They shared with us stories and reflections from their trip.
June 6 and 7
We have awakened early to another beautiful morning. The pigeons and doves are cooing, the birds are chirping, and today is our day to travel home. We will spend part of the day in old San Juan, seeing the sights and having lunch before boarding the plane.
Yesterday we finished our work at our partner Church. The day was filled with children, hearing, as they do every day, the stories of Jesus. We sang, played in the hot sun, and our hearts were touched by the love that was shared between all of us. The women of the church cooked us a full Thanksgiving meal for lunch yesterday, and then gifts were shared between us and Pastora Elsa and the church. We have all made dear friends and are coming home changed people.
On Sunday we will be sharing our experiences in worship and can't wait to introduce everyone to Zaicha Torres, via video chat. Zaicha was our Praying Pelican Mission staff liason this week, and she has become a dear friend to us all.
Thank you, Union Christian Church, for your love and support this week. Please pray for our flight home to be uneventful and restful.
June 5
From Hannah Collins and Annette Saul
This day began as the other days with someone's alarm going off before 6 AM! With more than 40 women needing to get dressed, the day must begin early as we depart at 8:15.
The outdoor crew: Larry, Cami, Jackie, Kelly, Julian, Nancy Belle, and Dewey continued to work on the shed. The corrugated tin for the roof was scrubbed thoroughly. The team helped put the metal rods and frames in place ready for the plywood which was delivered and unloaded in the extreme heat and humidity.
A member of the church was cutting down a Roble tree on the church property, so they helped haul away the limbs and branches and clear the debris. Kelly shared a sweet story of a neighbor who brought them bananas and mangos from her garden.
The VBS crew: Jane, Patti, Joyce, Julian, Annette, Hannah, Jim, Rosemary, Dustin, Kathryn, and Jenna helped to wrangle rowdy and tired kids into finishing wall hangings and to complete other crafts such as beaded necklaces. We sang worship songs with the help of some of our special friends that we have met this week. During recreation the kids participated in a water relay game in hopes to cool off on this hot summer day.
The ladies of the church, Bautista Villas de Loiza, feed us amazing homemade meals everyday. Today we had an incredible lasagna. They even cater delicious food everyday for those with dietary restrictions.
In the afternoon both crews went to an Elderly Home housing 25 residents. We sang songs, helped them worship the Lord, and helped with a few crafts. We then gave them each their own personal gift basket, which included things such as wash cloths, hand lotion, tooth brushes, toothpaste, etc. They were ecstatic! The day ended with all of us taking much needed showers and resting up for the next day of adventure.
June 4
From Patti Dawson Clark and Kelly Hansford
The Sun shines brightly by 5:30 AM at Camp Genesaret. A rooster behind our camp awakens us for a new day. The campus is quiet for the first couple of hours as missionaries arise, study daily devotions, read Bibles, exercise and pray. Birds chirp, but not the usual brown thrashers from Watkinsville.
We leave on our bumpy, yellow school bus ride to Iglesias Bautista Villa de Loiza. So far we have likened each bus ride as a blend between to the Dahlonega mine train and The Scream Machine at Six Flags Over Georgia.
We arrive at VBS not to 30 kids, but 39! But that's OK! We are practicing flexibility this week! For crafts we started our three-part wall hanging design by Joyce Beckwith. The kids also made water bottle maracas to use during music time.
The outside crew got busy right away mowing, weedeating, and blowing leaves and debris. Many bags were filled and the church grounds started shaping up pretty quickly. One of the members of our partner church cut large tree branches with a machete. It was enlightening to watch! (And a little bit scary, we might add)! We hauled many branches and limbs away throughout the afternoon. We also pressure washed the side walkway and fence before we started painting the fence. The welding crew began constructing the metal beams over the concrete slab we helped pour on Monday. This will be an extension to the existing church storage shed once it is complete. It was a very productive day working outside today! The outside crew was given dibs on showers first when we got back to our camp. The stench was real.
After dinner we headed back to our partner church for prayer worship. It was a really nice service. Members from both our partner church and our church prayed out loud and read scripture (Psalm 84). Their greeting time makes Unions greeting time look calm! We were hugged and welcomed with spirited enthusiasm. We sang together with the option of singing in Spanish or English. Our church led the remaining hour. We started with singing with the congregation. Then Rose Mary led by giving her testimony which was translated in Spanish as she spoke. Julian, Annette, Jim, and Nancy Belle each gave their testimony after Rose Mary. Jane wrapped the service up with a reflection centered around 1 Corinthians 12.
You can see pictures of the five Union missionaries who shared their testimony below!
June 3
From Cami Allen and Dustin Wall
With an early rise, we rose to a new day of high hopes for what the day would bring Union Christian Church. After a green eggs and ham style breakfast, we loaded our supplies and hopped onto our yellow submarine and headed to the church we are serving alongside. We safely and swiftly made it to our destination of Iglesia Bautista Villas De Loiza.

Once there, we arranged two separate groups. One group would assist in Vacation Bible School for 30 excited, well mannered and precious children. The other group was to complete construction projects on the grounds.

The construction team was formed which consisted of great minds who all had the same ideas to build a concrete foundation for a church storage unit (ha, ha, not even). However with much sweat, determination and most importantly heart, the foundation was poured without any off limits words or disgruntled friends. The construction group was also able to cut the church's yard with a push lawn mower and it looked great when completed.

Luckily, we had a few rain showers at just the right time to cool our bodies when we thought we could not be more hot. Pastor Jane made frequent rounds and demanded we drink more water and apply sunscreen, and we did just as requested for fear of what may happen if we did not do so (wink, wink). From the eyes of the construction team, we left the church feeling wonderful that God had given us this opportunity to help the church's community, and we look forward to continuing to work hard alongside our host church for the people who very much like us, love Jesus and their community!

When we first arrived, VBS was well on it's way and when we entered the church, the children's laughter could be heard and we could not wait to see what the day would bring. The kids were separated into three groups and were all working on crafts that church volunteers we're leading. All the kids spoke Spanish, but it was refreshing to see some of the kids who could also speak English. Dustin met a child who could speak English, Spanish, and Japanese, and that child clung to him all throughout the morning.

Thank you for you continuing prayers.
June 2
From Rose Mary Martin and Larry Saul
The early morning sun shone down on the camp with blue-sky brilliance. Cool, light breezes caused the palm trees to sway gently.

The quiet time allowed us to study the Bible and reflect on yesterday and what lay before us today.

After breakfast, we finished our preparations for the day. At 9:00 am, we boarded our yellow school bus for our trip down the mountains to our host church. The road was narrow, twisty and a bit thrilling.

We didn't get far, when the bus rolled to a fume, gasping, empty fuel tank halt.

We were soon rescued and promptly delivered to our host church, Iglesias Bautista Villas de Loiza. Warmly welcomed, graciously hosted and wonderfully cared for, we shared God's love with an enthusiastic congregation. The service reminded us of what we most often experience at Union. Songs of praise, joy, and thanksgiving sung by the congregation while accompanied by their Praise Band. We heard messages presented by that day's Sunday School teacher followed by a wonderful sermon from a guest pastor. Deacons came forward and collected the offering, and we were even able to witness a Baby Dedication!

After the lively sermon, we were fed a delicious local delicacy. We then split into 2 groups for Prayer Walks through the village and inviting families to VBS.

Last stop before returning to camp was a trip to Walmart. VBS supplies, items being donated for the church's Mission Trip to the Dominican Republic, and any personal items needed for the remaining days were purchased. Rain showers started as we exited, but just as the day began, we arrived back to camp with a beautiful clear blue sky.
June 1
From Jackie Byrd and Nancy Belle Hansford
After crazy early alarms, we all met at the Groome office at 4:30 AM. That put us at the airport around 6:15, giving us plenty of time to check bags, get to the gate, and find breakfast. Once we settled in, well-fed, at our gate, we got the notification that the flight had actually changed gates and we suddenly needed to be on the other side of the airport. After a long walk and a train ride, we made it to the international terminal, where we got more snacks before finally boarding our plane. The flight was blessedly smooth and uneventful, and we landed right on time just before 3:00 PM.

The PPM leaders picked us up, along with another spirited PPM group, and we loaded up on the school bus to get pinchos (a sort of BBQ-like meat kabob) at a local beach side, open air eatery. The water was beautifully blue and the breeze was refreshing....up until it blew down a coconut tree branch onto Pastor Jane's head! Thankfully no lasting injuries were sustained, and after some Tylenol we were on our way again.

We made the treacherous-looking, uphill commute on the one lane, two-way mountain road to our lodging for the week. We had an hour and a half to unpack and rest before dinner. Dinner was in a big room shared with the other three PPM groups in this area of Puerto Rico this week. They served rice, chicken, beans, and potatoes with a slaw salad on the side, which was all delicious! When dinner was over, we had a meeting where the leaders told us about the rules and schedules for the week, as well as having a brief worship service. After a long day, none of us complained when they sent us to bed for an early bed time.

The last surprise of the day was a good one - our lodging does have air conditioning at night! Blankets are on our Walmart lists and we are counting our blessings after a great first day!